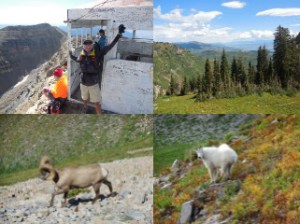 Hiking Mt. Timpanogos
Sunday, August 17, 2014 – I was hiking with Steve & our buddy Joey, up to Catherine's Pass, Albin Basin, Alta, Utah.  During the hike I spent most of my time alone, allowing the guys to get caught up.  During this private time I came to realize I was walking, hiking, and moving as well as I had in my twenty's  despite 11 surgeries to both my legs, and especially to the right leg which underwent Knee- cap re-attachment 4 years ago, followed by another surgery removing 2/3rd of my Patella Tendon 2 years ago. I felt marvelous.
I all of a sudden I felt the need to hike Mt. Timp.  I texted my biking buddy George to see if he could be on board to go with me.  The hike was set.  Somehow I knew if I didn't go on August 22nd, it wasn't going to happen this year, and maybe never.  The feeling of confidence, knowing I was in incredible shape and capable lead me to know now was the time.
August 22nd, 6:30am – we were on the trail.  What a beautiful day!  The weather was fabulous as well as the scenery.  It couldn't have been a more spectacular day.  For me it was an amazing accomplishment to make it to the top.  Five years ago, I attempted, and didn't succeed.  Then, my right knee-cap surgery followed the next year, followed by another surgery 2 years later.  I truly didn't think it would ever be possible for me to hike Mt. Timp.  And here I was, reaching the peak.  I didn't know weather to cry or continue to have a beaming smile on my face.  I took in the moment.  I had done something in my life I never thought possible. After re-building my right knee, it truly never entered my mind as a possibility.
I'm sharing this story of my life to all of you not to be bragging about something I accomplished, but to remind each and everyone of you than if there is a time in your life where maybe you feel, "I'll never do _____" Never, say Never.  Who knows what lies ahead of us. What allows things to come into the possible, is the ability to be willing to be in the present and to take one day at a time to be the best we can be.  Each day is a journey which can take us to places we maybe never could have imagined.  Stay present, capable, and desire.
With Much Love,
Sharon